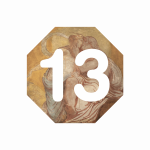 We have reached the central area of that small, intimate and almost secret quarter. This is a more intimate part of the house usually dedicated to women's activities, such as reading a good book. In the Palace, these quarters are assigned to the Count's wife, Giacinta Marchetti degli Angelini.
The intended use of this room influences the choice of its subjects, as Juno and Venus are the main protagonists. In the painting above the window, Juno tries to hinder Aeneas' journey, to prevent the hero from founding the lineage of Rome. In the octagons Venus helps her son Aeneas to conquer Italy first by talking to Jupiter, then by guiding him to Carthage.
Both goddesses represent Giacinta, as cunning as Juno and as beautiful as Venus. In a sonnet dedicated to the marriage between the Count and his young wife she is described in these words:
She was adorned with all the merits of mind and heart
The statues of Cincinnato Baruzzi are not Contemporary with the different renovation phases of the Palace but they were posthumous bought as they are consistent with the taste and style of the setting.
The secrets of this room are not finished. Do you notice the small door that leads to another room?
The passage is very narrow because at the time they are certainly not giants. But don't worry, even with just this story you will feel like you're there.